WHAT IS the EXTREME OWNERSHIP MUSTER?
Denver, Colorado | June 15 -17, 2022
MUSTER
Is a two-day premier leadership training seminar led by Jocko Willink and Leif Babin, co-authors of the #1 New York Times bestseller Extreme Ownership: How U.S. Navy SEALs Lead and Win, and the rest of the Echelon Front leadership team. Based on the principles outlined in Extreme Ownership, the instructor's guide attendees through the principles and strategies of leadership that lead to victory through highly engaged sessions and one-on-one interactions. The MUSTER is for any person from any walk of life who wants to learn practical leadership, strategies, and tactics for all levels of leadership in every field.
location:
Hyatt Regency Denver At Colorado Convention Center
650 15th St
Denver, CO  80202
Learn the Principles of Extreme Ownership
With Jocko Willink, Leif Babin and Echelon Front Instructors
Everyone Is A LEADER
The instructor-led sessions throughout the day begin with the core principles of leadership and the Laws of Combat. These principles were learned in combat, but the Echelon Front instructors relate everything to leadership in oneself, life, relationships, and work. Attendees at the MUSTER have opportunities throughout to interact with all of the Echelon Front instructors one-on-one, along with engaging with other attendees – leaders from every walk of life.
LEARN TO Lead AND WIN
Key TakeAways
Increased ownership of problems and solutions.
Build and maintain strong relationships
Work cross-functionally to accomplish the mission
Communicate effectively up, down, and across the chain of command
Simplify plans and increase efficiencies
Prioritize daily tasks as well as long-term strategic initiatives
Empower others to solve problems and LEAD
Subordinate their ego in support of the broader mission
Adapt to changing environments
Make decisions amidst uncertainty and chaos
Take ownership and solve problems, in business and in life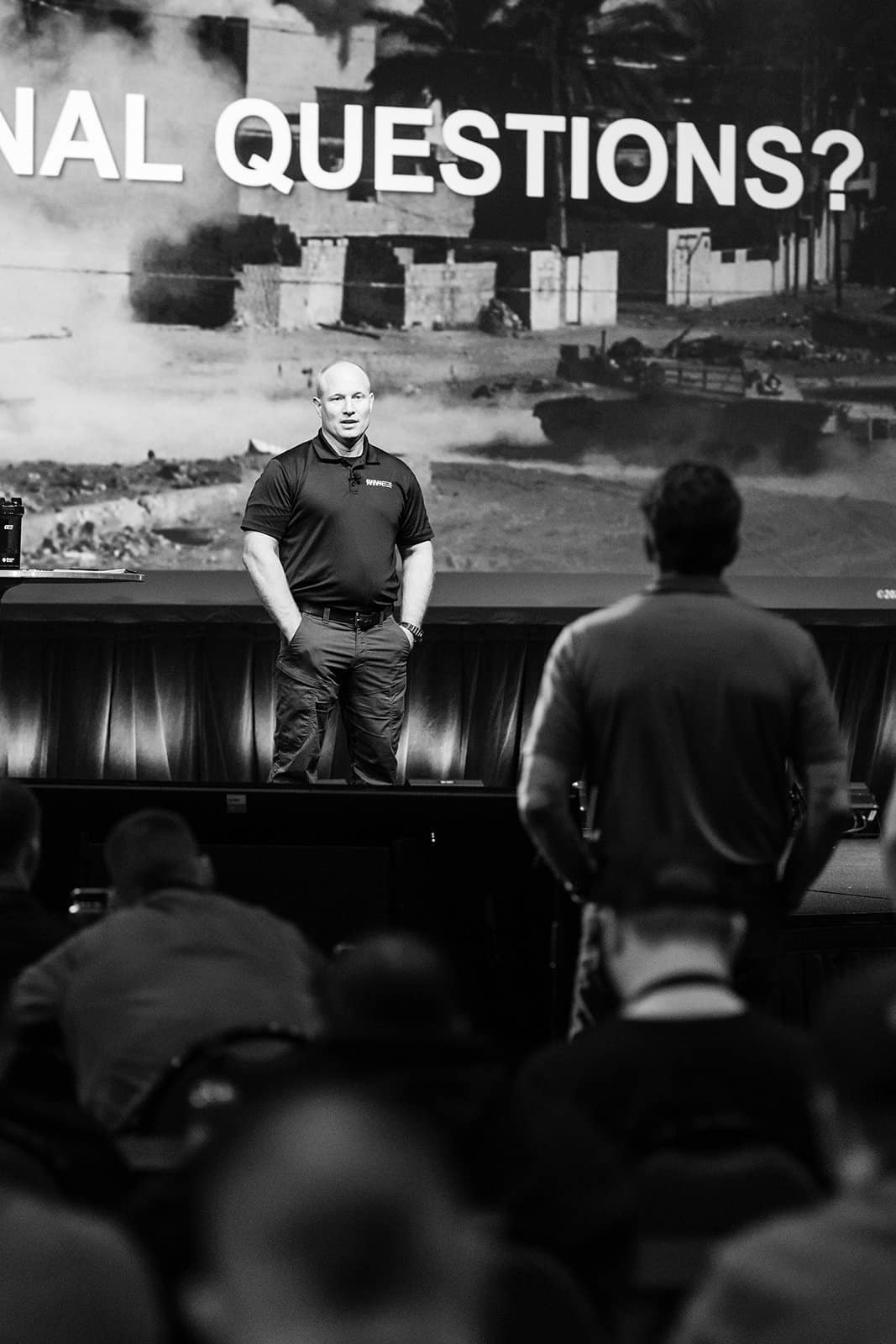 "It's a concentration of leaders from a wide variety of different backgrounds and industries, so you get a convergence of knowledge in a small area. It's highly interactive, not just between Echelon Front and the people who are attending, but between the attendees themselves."
leaders at every level
Join us in Denver
" We get hundreds of leaders from all different industries and walks of life, from first responders to people who are there to learn and look at themselves and get better. They want to actually grow and understand what they need to improve in their lives. There's just no other event like that."
-Leif Babin
MUSTER equips individuals and teams with the tools and the mindsets to identify problems, take ownership of them, find solutions, and implement them to LEAD AND WIN.
"Muster is unlike any leadership training program I have ever experienced. The best way I can describe it is that it has 'muscle'. The program has a nice blend of tactical/strategic and work/personal and is highly actionable." 
"Hands down the best leadership conference I have attended in my 25-year career in sales".
Jason H
"Aside from marrying my wife, and becoming a father, this is truly the best decision I have ever made"
Matt Blais