JOIN US FOR EXTREME OWNERSHIP FIELD TRAINING EXERCISE
Echelon Front's FTX  is a ONE-day immersive leadership training led by instructors from the Echelon Front leadership team, teaching the principles of the #1 New York Times bestseller Extreme Ownership: How U.S. Navy SEALs Lead and Win.
FIELD TRAINING EXERCISE-010
Attendees will gain a deeper understanding of the fundamental leadership principles of Extreme Ownership and how to implement them in real time. The lessons are pragmatic, applicable, and geared toward every level of leadership, from the C-suite to the front lines.
Echelon Front's Field Training Exercise Exercise is for any person from any walk of life who wants to learn practical leadership, strategies, and tactics for all levels of leadership in every field.real-time.
Investment: $2,750/attendee 
FIELD TRAINING EXERCISE-010
Lessons learned in War, Business, and Life.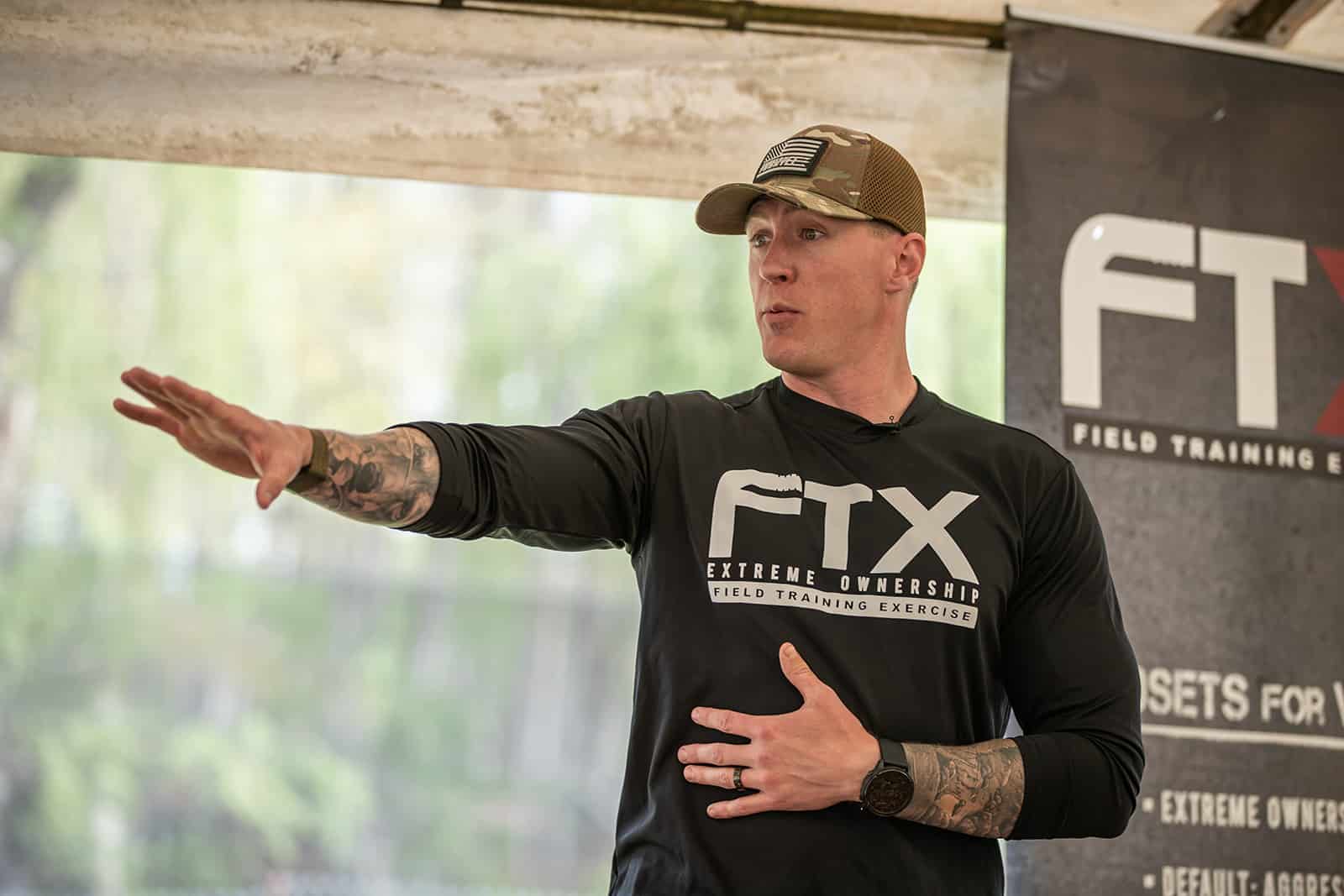 Based on the principles outlined in Extreme Ownership, the instructors guide attendees through the principles and strategies of leadership that lead to victory through hands-on, real-world training.
Participants experience challenging and chaotic situations to bring to life the power of effectively applying the 4 Laws of Combat.
Cover and Move | Simple | Prioritize and Execute | Decentralized Command 
Detailed debriefs after each "operation" help attendees make direct connections to challenges they commonly face in their professional and personal lives. Attendees experience direct engagement with EF Instructors throughout the training.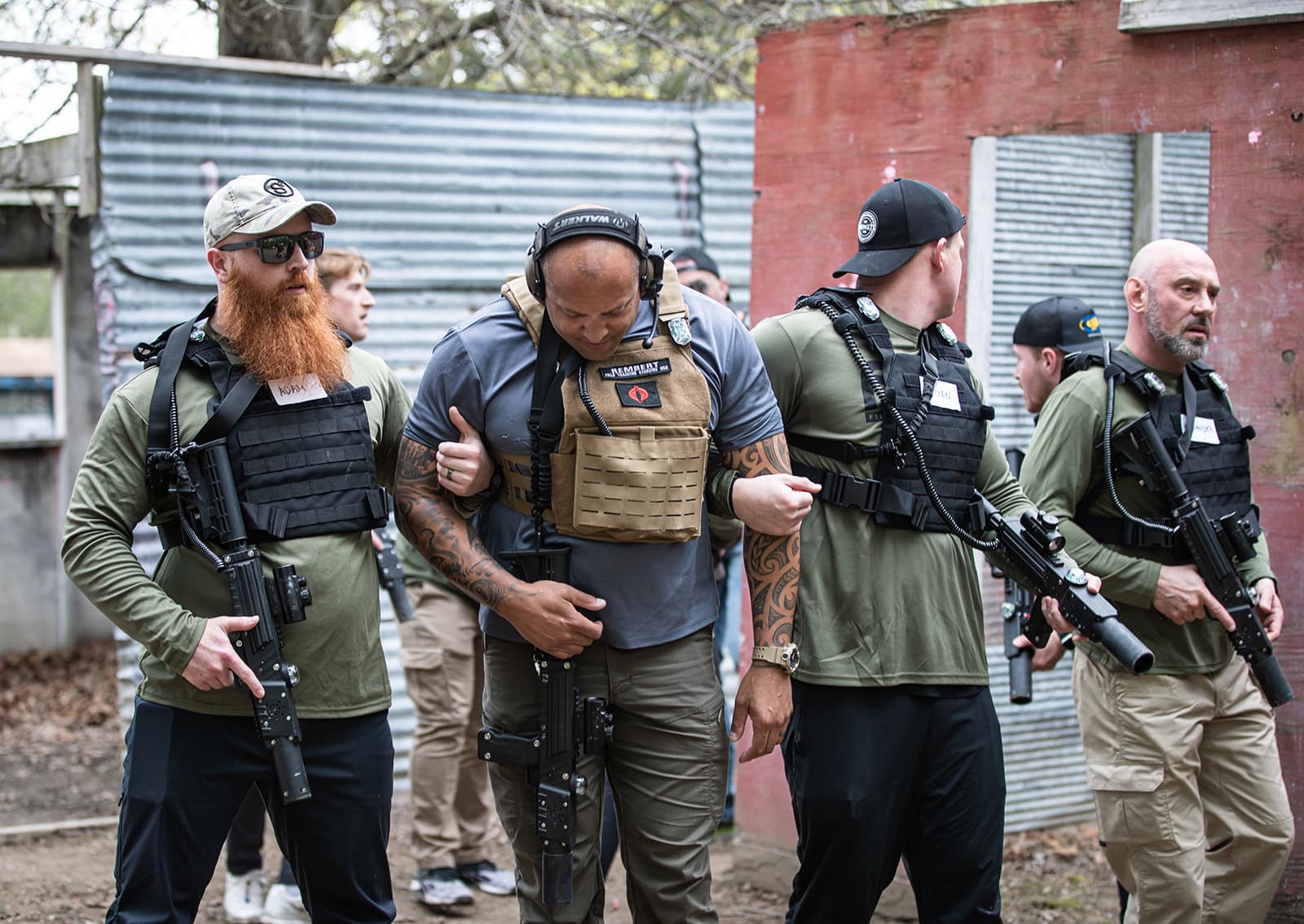 KEY TAKEAWAYS:
Increased speed of decisions and actions.
Increased ownership of problems and solutions.
Build and maintain strong relationships
Work cross-functionally to accomplish the mission
Communicate effectively up, down, and across the chain of command
Simplify plans and increase efficiencies
Prioritize daily tasks as well as long-term strategic initiatives
Empower others to solve problems and LEAD
Subordinate their ego in support of the broader mission
Adapt to changing environments
Make decisions amidst uncertainty and chaos
Take ownership and solve problems, in business and in life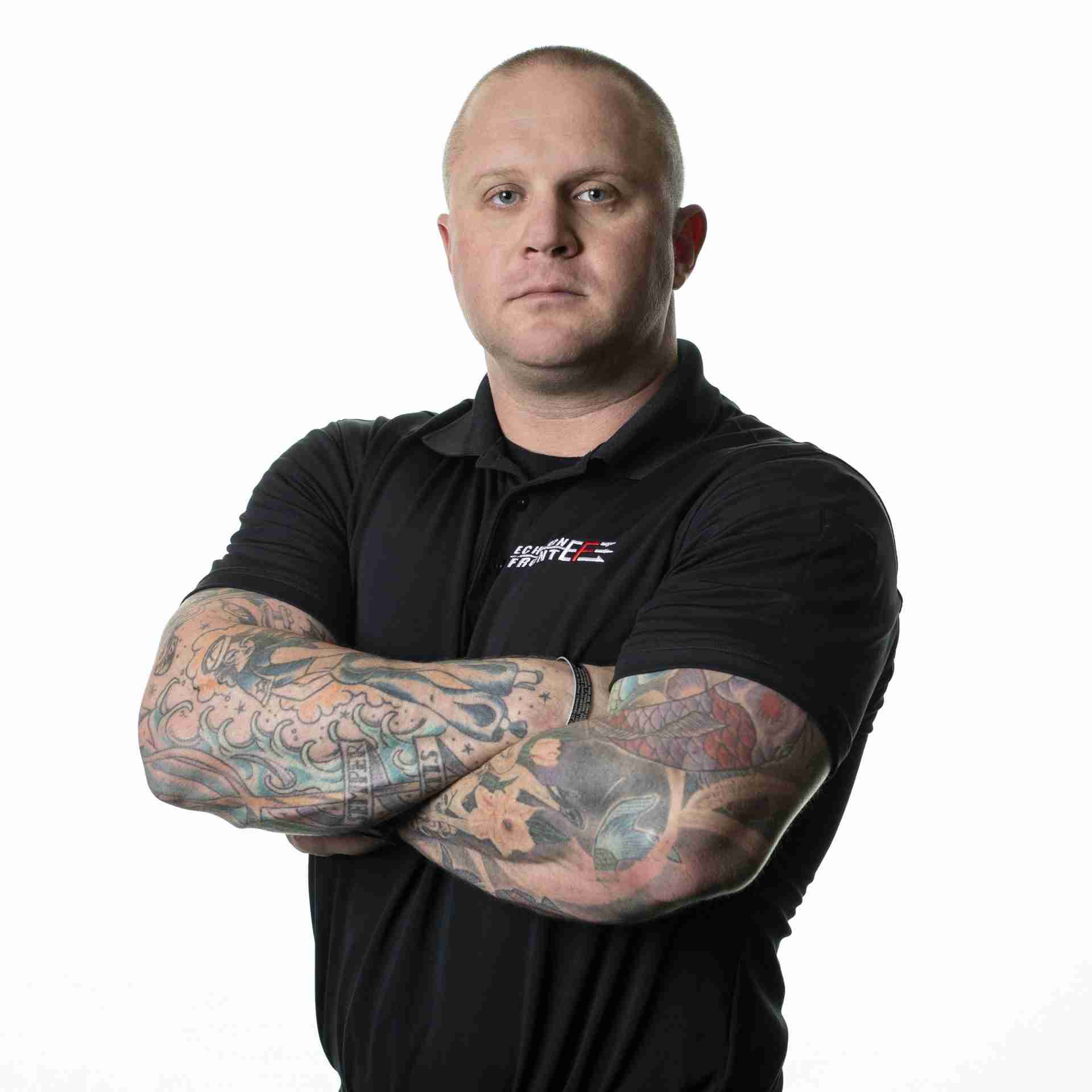 JP DINNELL
Chief Training Officer
JP Dinnell is a former U.S. Navy SEAL and now a Leadership Instructor, Speaker and Strategic Advisor with Echelon Front, where he serves as Chief Training Officer. J.P. is also a pro team athlete and spokesperson for Origin Maine and Jocko Fuel, an American clothing and supplement company. J.P. has a signature Energy Drink flavor "Sour Apple Sniper" with Jocko Fuel. Jeremiah spent nearly a decade in the SEAL Teams with three combat deployments.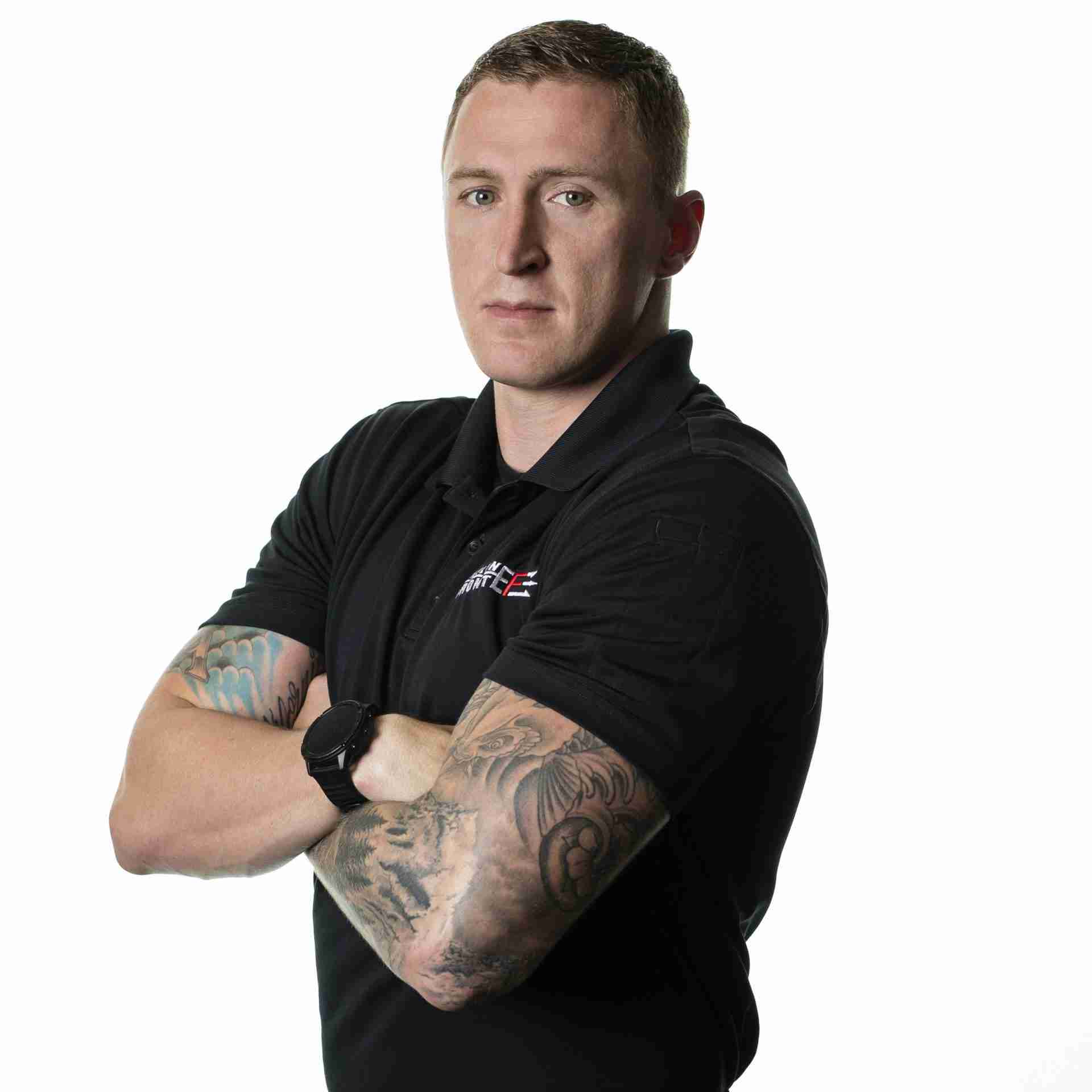 CODEY GANDY
Director of Experiential Training
Codey Gandy is a former U.S. Marine, and currently a leadership instructor, speaker, and strategic advisor for Echelon Front. Codey spent just over 5 years working as a ground combat leader for various units in the Marine Corps.
FIELD TRAINING EXERCISE-010
TESTIMONIALS FROM PAST EXTREME OWNERSHIP FIELD TRAINING EXCERISE PARTICIPANTS
"No testimonial will ever come close to explaining the impact this FTX had on my team of subordinate leaders and myself. This was a career/life changing experience." 
Gary Bright
Swinerton Builders

"FTX was the best leadership training I have ever received; it was a high stress, real world environment, that forced me to use the 4 laws of combat to succeed. The EF Team was able to illustrate in real time the importance of leadership and how the execution of the 4 laws of combat is imperative to success in business, but more importantly success in day-to-day life." 
Guinness McFadden
"In my 20 plus years I have been through many leadership classes- Bell Leadership, Ken Blanchard Situational leadership, and Pacific Institute just to name a few. That being said, I have never been through a training that was as impactful and life changing as our last leadership summit with Echelon Front. The take a ways from the EF FTX training and leadership summit were great. During the FTX training I realized how imperative clear, simple communication can be and it can make or break a team. I decided at that moment I would make sure our teams started simple and clear communication."
Terri B., General Manager
JES Foundation Repair
"This 2–Day FTX investment will undoubtedly generate a higher and more immediate corporate ROI in young managers than sending them to a 2–year MBA program" 
"If you think you understand the Laws of Combat, humble your ego and think again. This training brings principles into reality and translates them into an applicable format you can immediately utilize in your business." 
"If you think you understand the Laws of Combat, humble your ego and think again. This training brings principles into reality and translates them into an applicable format you can immediately utilize in your business." 
"FTX was a special opportunity to learn hard lessons of the demands and burden of leadership. It was a humbling experience that improved my abilities as a leader like nothing else I have ever experienced." 
FIELD TRAINING EXERCISE-010
PLANNING STRATEGIC MISSION 
Learn the importance of planning

 

Standard Operating Procedures – why we have them and how to implement mission planning techniques, checklists, and contingency plans

 
TACTICS AND WALKTHROUGHS
Weapon familiarization

 

Basic gunfighting tactics

 

Mission rehearsals

 
SCENARIOS  
Rapidly execute

 

20-30 minute

, time-sensitive target missions

 

Each participant will operate in both leadership and individual roles

 

Debriefs after each mission link lessons learned to current business challenges your company is battling

 
HOTEL
Delta Hotels Dallas Southlake
251 East State Hwy 114 Southlake, Texas 76092
FLIGHTS 
Dallas Fort-Worth International Airport
(30-40 minutes from facility)
FIELD TRAINING EXERCISE-010
Ticket Price: $2,750 each person  

*Ticket does not include flights or hotel reservations 
Please email events@echelonfront.com for group and service discount rates 
Where and when is FIELD TRAINING EXERCISE 010?
Southlake, Texas (Dallas/Fort Worth area) 
September 20, 2023 
What is included in my registration?
Registration includes access to all training, lunch on training day, and transportation to and from the hotel to the training site. 
What should I wear?
Field Training Exercise is conducted at an outdoor paint ball facility. Wear comfortable, weather-appropriate clothes (training is rain or shine), long pants, and closed-toe athletic shoes. We provide a long sleeve shirt for training day. 
Who should attend?
Field Training Exercise is for all leaders in any aspect of their life looking to become a better leader at work, at home, and every other aspect of life and connect with like-minded leaders. 
What type of equipment is used for Field Training Exercise?
Laser tag equipment is used for the training. 
Are children allowed?
Field Training Exercise is for adults only. 
Will I receive a Certificate of Completion?
Yes. Each Field Training Exercise attendee will receive a certificate of completion at the conclusion of the final training day. 
How will I receive information about Field Training Exercise after registering?
Upon registration, you will receive an email from events@echelonfront.com with additional information. As the event approaches, additional emails will be sent with updated information. If you have not received any emails from us, please first check your junk/spam mailbox. You can also email us at events@echelonfront.com and we will ensure your information is up to date in our system. 
I registered for the event on behalf of someone else. How do I get this ticket updated with the correct attendee information?
Email us at Events@echelonfront.com with the following: 
Your name (first and last)

 

Order number (if you have it)

 

Send info for the person attending:

 
The first and last name, email address, and shirt size

 
Do I need to have a physical copy of the ticket printed when registering on-site?
A printed ticket is not needed. We will be able to check you in at registration using your name and/or email. Having your ticket/order number accessible via mobile device is always helpful and will speed up your registration process in the event of any issues. 
I need a copy of my order receipt. How can I obtain this?
First be sure to check your junk/spam mailbox as the order receipt will be emailed to you direct from Shopify. If you are unable to find this, simply email events@echelonfront.com and we will send you a PDF copy of your order receipt. 
Email us with: 
• Your name (first and last) 
• Your order number (if available) 
Can I pay for my ticket via check/purchase order/ACH transfer?
You may choose to pay by ACH at checkout. For other questions regarding payment, email events@echelonfront.com 
I registered for a group of tickets that are now in my name. How can I update this to include each of my team members separately?
I registered, but I am no longer able to attend. Am I able to get a refund?
TRANSFER TO ANOTHER PERSON – Registration can be transferred to another person easily online using the order number provided on your receipt. You can also request assistance with this by e-mailing our OPS team at events@echelonfront.com. To ensure the event certifications and materials are printed properly for each attendee, we request that a transfer to another person is executed thirty (30) business days prior to the start of the event.
TRANSFER TO ANOTHER EVENT – If you are no longer able to attend the event you are registered for, your registration can be transferred to another DATE of the same event so long as tickets for that event are still available. This must be requested in writing by e-mail to events@echelonfront.com at least sixty -days (60) days prior to the start of the event for which you are registered.
REFUND – If you are no longer able to attend the event you are registered for and are not able to TRANSFER your registration to another person or to another event, please submit in writing via email to events@echelonfront.com to request a refund. We offer the following options for a refund:
If canceled at least ninety (90) business days prior to the start of the event, a full refund (less the administrative fee) will be refunded.

If canceled at thirty (30) business days prior to the start of the event, 70% of the registration fee (less the administrative fee) will be refunded.

No refunds will be offered within thirty (30) business days of the engagement. For extenuating circumstances, please email us for consideration at events@echelonfront.com.
Administrative Fee – All refunds are subject to an administrative fee:
Council: $650

FTX:

 

$250

Battlefield Review: $250
FORCE MAJEURE – In the event Echelon Front is prevented from carrying out its obligations as it pertains to the event you registered for as a result of any cause beyond its control, or such event cannot be held or does not occur due to acts of God, strikes, labor disputes, government requisitions, restrictions or regulations on travel, hotel or facility availability, commodities or supplies, war or apparent act of war, terrorism, disaster, civil disorder, epidemic or pandemic, curtailment or restriction on transportation facilities, or any other comparable calamity, casualty or condition (collectively a "Force Majeure") Echelon Front shall have the right to terminate the affected Conference without liability and shall be relieved of its obligations to Registrant.
If the affected event is terminated due to a Force Majeure occurrence before the first day of the Conference, then Echelon Front will reschedule the affected event, if and as practical under the circumstances, and your registration fee will be applied to the rescheduled Event. If you are unable to attend the rescheduled Event, then you may transfer the registration fee you paid, upon written notification to Echelon Front at events@echelonfront.com, towards another event or you may transfer to another individual in your place, so long as space is still available. Echelon Front reserves the right, at its discretion, to approve or deny such registration fee transfer requests. Additionally, Echelon Front does not assume responsibility for any additional costs, charges, or expenses; to include, charges made for travel and lodging.